As Education Specialist for the Olympic movement in Australia, we work with the Education Sector, Professional Teachers' Associations and student groups to bring the best experience to Australian classrooms.
Education Partnerships designed and delivers Olympics Unleashed training for Olympians and those aspiring to Tokyo 2020.
Education Partnerships designed programs and lessons for the Rio 2016 Games , PyeongChang 2018 and Tokyo  2020 Olympic Games.
Education Advisor for Entrepreneurial Studies
Advisor and curriculum developer for organisations developing Entrepreneurial programs and support materials for School aged Students – both Primary and Secondary
International Olympic Committee – Olympic Values Education Program
Provided high level audit and strategic advice on resource development for the Olympic Values Education Program.
Developed presentation materials for Strategic Planning for Education – Education Sector and Strategic Planning for Education – Sport Sector. 
Accredited trainer for Olympic Values Education supporting NOC's, NSO's and community groups.
Staff Training to Members Equity (ME) Bank on Financial Literacy for Customers
Education Partnerships delivered 16 workshops to 140 ME Bank Staff nationally. The aim of the training was to upskill all front of house staff to deliver financial workshops to their customers, clients and members. The resources and training included a comprehensive and tailored online training modules and presentation skills.
Indigenous Financial Literacy Best Practice Think Tank
Attended and contributed to Best Practices in Indigenous Financial Literacy Meeting convened by the First Nation Foundation. Heather presented StartSmart Enterprise a program she wrote and implemented on behalf of the Commonwealth Bank Foundation.
International Olympic Academy
Attended the 8th International Session for Presidents and Directors of National Olympic Academies and Officials of National Olympic Committees in Olympia, Greece, on National Olympic Education programs.
Junior Sport Award
Junior Sport Award at the Australian Sports Commission Ausport Awards for EdRugby, the Australian Rugby Union's National Education Program for Schools.
Commonwealth Bank
Community Strategy Award from the NSW Public Relations Institute of Australia for the Commonwealth Bank e-Learning Grants in conjunction with National Literacy and Numeracy Week.
Sydney 2000 Paralympic Games
Developed a National Education Program for the Paralympic Games Organising Committee which resulted in a quarter of Australian Schools registering and over 350,000 students and teachers attending the Paralympic Games.
Sydney 2000 Paralympic Games
Secured a Federal Government $1.5 million travel subsidy for school excursion groups to the Paralympic Games.
Articles and Workshops
Creating stronger partnerships between Business and Education.
Presented The Business of Creativity at Vivid Ideas 2017.
Active Member of Canberra Innovation Network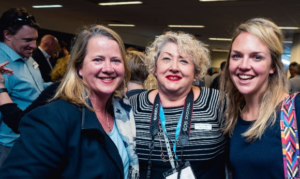 As a member of the Innovation in Education task force, we work with business, government, the start-up community and Education to develop support networks.  Heather MacDonald – Education Partnerships (L), Diane Phillips, University of Canberra (M), Annie McAppion, ACT Department of Education(R)
Recently featured in the Sydney Morning Herald as a Educator in Business.